Link:
Crush the Castle 2 Player's Pack
Developer: ArmorGames
Genre: Catapult
Kongregate Rating: 3.96/5
FlashMush Rating: 8/10
*And play the original Crush the Castle 2 at
PlayDefenseGames.com
*
Crush the Castle is back with another player's pack for more castle crushing excitement. This time all the content is provided by players and their custom castle maps but using all the great weapons and whatnot of Crush the Castle 2 itself.
Now I'm a huge fan of the Crush the Castle series, I think it's one of the best catapult games out there and love that anyone can make custom maps. So it's especially nice to actually play the "best of the best" of these custom maps in one released game...well map pack. There really isn't much to say in terms of anything as graphics wise it's the same as Crush the Castle 2...aka really good. Gameplay also plays exactly the same as in Crush the Castle 2 and Crush the Castle 1..as well as any catapult game really, so again not much to say there. I will say the levels the players came up with are quite nice, some went the elaborate route while others went very specific in terms of what you had to do which at times was frustrating.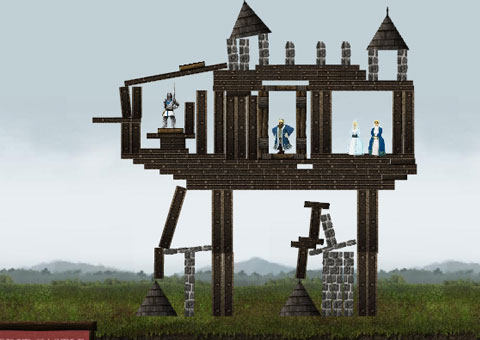 A new addition to the series though that I thought was a neat addition was the addition of a zombie mode. Basically it turns all the peasents, princesses, kings and queens which you've been crushing into zombies which are coming after you. Armed only with your catapult you have to kill them all! As you kill more zombies you get money which can by better projectiles. While this mode has some flaws such as once a person is at a certain length from you you can't really hit them as well as the mode just in general seeming to be a last minute throw in, I did really enjoy the mode and thought it was clever. Hopefully in the next addition it'll be built up on.
Play the original Crush the Castle here:
Free Online Games
brought to you by
Armor Games
Play Crush the Castle 2 (which this players pack is based off of) here:
Free Online Games
brought to you by
Armor Games
Play Crush the Castle 2 Players Pack here: