Link:
Little Cave Hero
Developer: Atakamalabs
Genre: Puzzle
Kongregate Rating: 3.63/5
FlashMush Rating: 5.5/10
Today's review is going to be about a sort of different type of game that I haven't reviewed before, and a type of game that I am not a fan of at all. Pay to play games... Little Cave Hero seems to be the next game of this genre in which there is a vast game in front of you but...you have energy to do actions and you have to pay to get more energy (or annoy your Facebook friends).
This is really a shame as Little Cave Hero on the outside is a great game. It's basically a dungeon puzzle game in which you mine things, build up a city and do quests. It's very detailed oriented and loads of things to do and find. The graphics are another great thing. Little Cave Hero uses a great 8-bit style of graphics that I really enjoy.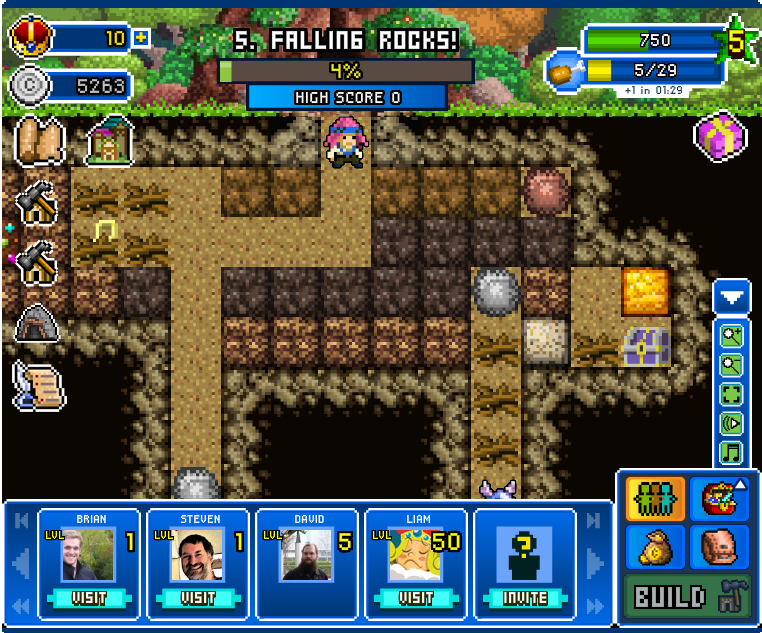 So it really is a shame that Little Cave Hero took this pay to play route... I don't think that games should really do this type of marketing as if you read the comment thread on Little Cave Hero you can see that loads of people love the game idea...but just aren't going to pay to play to get the better features and to progress further. And I don't blame them. A little flash game should not cost a person anything, it's just a good time waster and it is never going to have as many features as a full on PC or console game. I guess the developer wants to make money but I feel you can make just as much money not forcing people to pay to play, which is going to deter loads of people, and just do the typical advertising strategies most flash game developers use and can live off of.
Overall, Little Cave Hero is a great concept and one that I would love to be able to play in full. But as of now...just never going to pay to play a flash game. Not feasible.